In our last update, we discussed the solutions to time, money, and effort as they relate to grocery shopping. Now we will discuss portion sizing and amounts as they relate to health and longevity.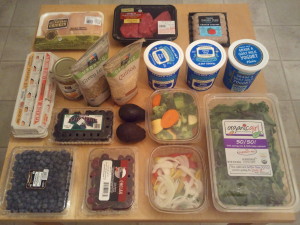 What counts as a portion size? For fruits and vegetables, 80g is the amount epidemiologists, or researchers who study human disease and populations use when cataloging data. I have come to keep this ever-present in mind when I am preparing a meal.
Most people are not going to use measuring cups and teaspoons when preparing food. However, it can quickly become second nature to do quick math when remembering 80g. Let's say you have a bag of baby carrots. The nutrition facts label indicates the serving size is 85g. The label also states there are five servings per container. Easy enough–take out 1/5th of the bag for a portion size during your meal preparation.
Other examples may have labels showing even greater than 80g for a serving. A bag of frozen berries and cherries–in some ways superior to fresh fruit, in that it will retain its quality longer (6-12 months) and even tastes sweeter (the ice crystals break down the cell walls, enabling your palette to detect the minimal naturally occurring sugars) is an example. The label may say 120g. If 80g is a serving, you now have a serving and a half–getting you more quickly to the goal of 5-7 servings a day. Alternately, you could do 2/3rds of a serving according to the bag, and have the 80g amount. This also stretches your supply.
If the fruit is fresh, and is commonly found in a 6oz container, then you have 171g–just over two serving sizes. Another common example that often has no serving size label is mixed greens or spinach leaves. 85g is considered a serving size. A 16oz container has five servings.
In addition to fruits and vegetables, it is a well-rounded diet that is associated with longevity and reduced incidence of disease. Diets that include 5-7 servings a day of fruits and vegetables, plus nuts, legumes, whole grains–and even animal source protein from meat and dairy, plus some alcohol and chocolate consumption are correlated with healthy lifestyles and outcomes. The individuals with this type of dietary intake are also generally active.
You can click here and here for ideas on how to use foods from the $80 table, along with similar types of foods. Several examples are given that consider special dietary concerns (vegan or vegetarian, nut allergies, or dairy sensitivity), as the $80 table offers options that fulfill anyone's dietary needs.
If you'd like to learn more, contact Drew at drew@lwlcoaching.com or call 919-805-0520.
References
Oyebode, O; Gordon-Dseaugu, V; Walker, A; Mindell, JS. Fruit and Vegetable Consumption and All Cause, Cancer, and CVD Mortality: Analysis of Health Survey for England Data. Journal of Epidemiology and Community Health. 31 March 2014. doi:10.1136/jech-2013-203500.
Wang, X et al. Fruit and Vegetable Consumption and Mortality From all Causes, Cardiovascular Disease, and Cancer: Systematic Review and Dose-response Meta-Analysis of Prospective Cohort Studies. The British Journal of Medicine. July 29th, 2014. 349:g4490.